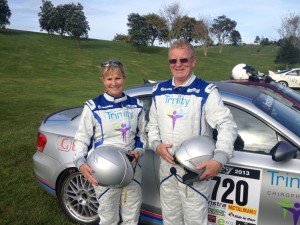 Today was scrutineering for the Targa which starts in the morning (Thursday). It was hosted by Kim Dotcom at what he calls the Kim Dotcom mansion. A fair description. The scrutineering processes went very smoothly thanks to Robbie (Francevic) who is such a big name in the car racing world that doors opened and then closed smoothly. In the meantime, while he was taking the car through all the technical inspections, Rhonda and Jim were in the queue for registration. This was a very long queue and it took a long time to get to the front where they learned that they had been in the wrong queue – for the Targa Tour. The Targa proper desk had no queue at all.
Registration was followed by a briefing at the Riverhead Hotel. Robbie and Rhonda went on ahead. Jim arrived to find the briefing had started and listened for some time. Rhonda then extracted him from that – it was the wrong briefing, again for the Targa Tour. The real briefing followed.
Nice shot of the car driven by Jim arriving followed by Rhonda in her California on TV One News. http://tvnz.co.nz/motorsport-news/renowned-petrol-head-kim-dotcom-hosts-targa-rally-video-5664546
Tomorrow sees the cars travelling from the Dotcom mansion down to New Plymouth, interspersed with 7 special stages over closed roads, with a 200 Km. limit, policed by radar guns. There are some impressive cars in the field and so it will be a question of taking it easy and getting the hang of the whole thing without going into a ditch. Wearing a crash helmet will take some getting used to but the racing suits that only arrived from Italy suitably embroidered with Trinity Chiro and Georgia Racing logos are pretty cool.
So, say it again, take it easy on the first day and avoid the red mist descending to cloud sensibility and vision.