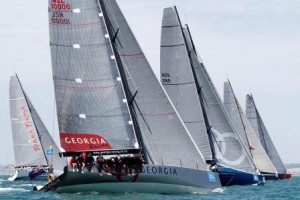 After a disappointing fifth at Hamilton Island last August, George Hendy and I sat down and reviewed where we might have been lacking - principally as to the boat, as our crew work remained consistently good.
Two areas for improvement were identified, by reference to the boats that had beaten us - HOOLIGAN, LOKI, SHOGUN IV and LIVING DOLL. One immediate point of difference was that all of these boats were sailing with new 3Di sails. Another was that they were all sailing better upwind than us, particularly in the choppy water which the heavier winds had generated. Downwind we felt we more than held our own but the boat struggled to hold on upwind, not a problem that we had previously encountered in 2010 with more moderate winds.
We had looked at 3Di sails when they first emerged but advice that we had received suggested that the sails were as yet unproven and that there were question marks around their durability.
The second potential area for change concerned the depth of the keel. When built, the boat had the standard TP52 draft of 3.2 metres. We had considered going deeper (up to 3.8 metres) but were worried that the adverse impact this would have on our IRC rating would outweigh the gains of increasing the draft. There is also always the question of making a boat too stiff so that its light airs performance is compromised. Nevertheless, we believed that HOOLIGAN had a deeper draft and it was a fact that, under rule changes made for that year, the AudiMedCup boats built in 2011 had gone to a draft of 3.35 metres. One of those boats was the new SHOGUN V, which arrived in Australia last December and immediately performed with distinction in the Sydney Rolex regatta, tying on points with HOOLIGAN though losing on a count back.
In the end, after consultations with Adolfo Carrau of Botin Partners, the designer of both GEORGIA and HOOLIGAN, it was decided to build a new fin which would give a draft of 3.50 metres. That this was successful is now history. Coupled with two new 3 Di jibs (the medium and the heavy), designed by Burns Fallow of Norths and Team New Zealand, the new keel improved the performance of the boat substantially attested to by the 2, 1, 1, 1, 1, [4], 1, 1 score line at Geelong. What was perhaps unexpected was that our light wind performance was not compromised. Indeed, arguably our best two races were sailed in winds of 7 - 8 knots.
Credit needs to be given too to the consistently good crew work. The crew, with one or two changes only, was the same that we have sailed with in all of our Australian regattas. I see this as evidence that a largely amateur crew can make up with enthusiasm whatever they lack in skill and experience of a fully professional crew.
It would be invidious to single out individual crew members for special mention. However, the media correctly reported the huge contribution that Chris Dickson made to the tactics on the boat. What they didn't perhaps see was the overall management of the boat on the water that Chris undertook, not least of which was ensuring that the helmsman remained focussed throughout!
Reflections? First, acknowledgement needs to be given to the great competition that exists in Australia for IRC boats and especially for the sizes from 50 feet up. Australia has embraced the TP52 style of boat and there are now upwards of a dozen such boats regularly competing in major regattas up and down the Australian East Coast. Given the enormous distances that have to be travelled between regattas (Melbourne to Hamilton Island is around 1800 miles) this is a tribute to the enthusiasm and commitment of the owners of these boats.
Secondly, I would want to make mention of the warm welcome and assistance that we have been given in the last 18 months by the owners and boat managers of our principal competitors. Michael Hiatt, owner of LIVING DOLL (with whom we are always locked in very close combat), has been especially helpful but others too have never hesitated to come forward with offers of assistance.
Still in reflective mode, it is interesting to think about IRC Grand Prix/premier boats in an America's Cup world that has moved away from monohulls to multihulls, probably for a very long time to come. While many (including the current Defender) suggested that the last generation of AC monohulls (as sailed at Valencia) were dinosaurs (recall Russell Coutts' "Flintstone/Facebook generations" comment), the fact is that America's Cup was regarded as the premium source of yacht design and technological development. That remains true today and indeed the technological challenges of a 72 foot multihull with a solid wing sail are even greater. However, the question remains: how relevant is that to all but the very small number of AC multihull participants?
In this respect, a feature of the TP52 class has been that it is a development class and the improvements in these boats since they first appeared on the scene have been colossal. They are genuinely fast but relatively easy boats to sail (at least GEORGIA with its hydraulics and simple deck layout and single backstay is). The design changes that were made last year to the TP52 class, which were intended to bring it much more in line with IRC, has meant that there is now little difference between a TP52 such as SHOGUN V and an IRC customised boat like GEORGIA. The rating difference between these two boats (and between GEORGIA and HOOLIGAN) are more a reflection of the lighter weights of the specialised TP52s (through the use of more exotic - and expensive - composites) than of any other design difference.
IRC also remains strong in the United States and Europe (though disappointingly, not in New Zealand) and it is my view that - with the possible exception of the VOLVO races - this is where the attention of the yachting world will turn in the years to come. Having said that, it will also be a matter of great interest as to whether a new one design class emerges to take over from the highly successful FARR 40 class, which is now fading. If it does, I do believe that it will not supplant the higher end IRC racing. While one design boats have their virtues, the attraction of being able to build or develop a more individual boat has great appeal. The similarity, but also differences, between boats in the TP52/IRC 52 fleets demonstrates this point. And then there is the added attraction and complexity that comes from the 52s competing against both larger IRC boats such as LIVING DOLL, LOKI, LIMIT and WILD OATS and smaller boats such as the Cookson 50 TERRA FIRMA.