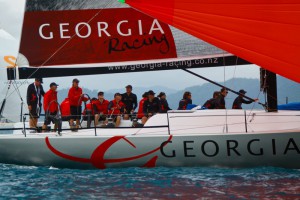 Moderate Hamilton Island conditions were close to ideal for the IRC52 Georgia, with the boat placing second in the Grand Prix IRC Division, and helping New Zealand take home the South Pacific Cup.
Consistency was the name of the game for Georgia, helmed by Jim Farmer and Chris Meads, with tactical support from America's Cup veteran Chris Dickson.
In the 16 boat fleet, Georgia never finished lower than sixth, also clocking up a win and two other podium finishes in the week-long racing event.
"We had very good team work with very few mistakes," says owner Jim Farmer. "This week the boat proved it is a very good all-round performer in all winds."
Georgia finished on 28 points, 15 points behind the Reichel Pugh 63 Loki which was almost untouchable throughout the regatta, and 3 points clear of third prize winner, Wild Oats X.
Throughout the event conditions were generally moderate, with 12-15 knots of breeze and small waves.
"It was exciting to see how the boat accelerated in that situation. It was quick to surf down the quite small waves we had most days, other boats around us didn't seem to do that," says Jim.
While a couple of 'average' starts, and a ripped spinnaker required the crew to fight hard at times in order to recover, they also provided opportunities for brilliance to shine through:
"In the last island race, after a poor start, Chris Dickson took us up the other side of an island - which was not a marker - and got us back into the race. On the long run back, he kept us gybing out to sea and we made a lot of ground to come in 4th," says Jim.
The skipper also tells of a time when the integrity of Georgia's gel coat was very nearly tested: "In one windward-leeward race, after a good start, we were dumped on by a 100 footer which forced us to tack away from where we wanted to be. This put us behind a number of boats going into the top mark. The position was compounded by a boat on port tacking in our water within 3 boat lengths of the mark – a collision was avoided by inches by my turning the bow up. Only a boat owner could have taken such swift evasive action."
They went on to have a very good downwind run and finish second on corrected time in that race.
It was Chris Dickson's third regatta aboard Georgia – he also raced in the 2009 HSBC Premier Coastal Classic just after the boat was launched and was on the winning crew in the New Zealand IRC Championships in Wellington in February.
"Chris is extremely competitive and is not happy unless the boat and crew are performing to their best. He is therefore a hard task master but one who all the crew respect and respond positively to. Personally, I have learned an awful lot about helming the boat, having him behind me talking to me," says Jim.
A number of the Georgia crew – in particular, George Hendy and daughter Emma Hendy, Saun Mason, Chris (Curly) Salthouse, Chris Dickson and Emirates Team New Zealand bowman Jeremy Lomas, also sail on the Corby 43, Full Metal Jacket, which has campaigned throughout Asia but is currently sitting in Melbourne. Full Metal Jacket's owner, Chris Meads, took them helm for half of the races in Hamilton Island.
"This worked very well as it meant that each of us was actually able to watch and enjoy the races when we were not steering," says Jim.
Young and up and coming sailors included bowman Saun 'Geeza' Mason, mastman Tom Blampied, and Kieran Henderson – credited with doing a magnificent job running the middle of the boat. Leo Farmer, also under 30, trimmed the main with great skill.
"I do think we are still learning how to sail our boat optimally – it is still a new boat," says Jim, who confesses to finding Loki, and her sistership Limit, which beat Georgia in the Bay of Islands in January, formidable competitors – not only are they blessed with a rating edge that IRC seems to give boats of that size – but they are also well sailed. Both in the Bay of Islands and at Hamilton Island each of them however also enjoyed the big advantage of being able to sail in clear air at all times away from the start line because of substantial size differential from them of both bigger and smaller boats. With Limit returning to Australia shortly and thereafter in future regattas going head to head with Loki, that advantage will disappear, Jim says.
"Possibly changing the mast rake in different conditions will make us a little quicker up wind. At the moment, I think our edge over the other 52s is downhill. It was satisfying to beat bigger, well performed, boats such as Wild Oats X (Reichel Pugh 66), Black Jack (66), Living Doll (Farr 55), which won last year, and the former Sydney-Hobart winner Yendys (Reichel Pugh 55), as well as three 3 very well performed 52s – Scarlet Runner (second at the 2009 Hamilton Island Race Week), Shogun and Secret Men's Business (which won Geelong Race Week this year).
Georgia will now travel south to Sydney where it will take part in the Rolex Big Boat Regatta in December, and may decide to compete at Geelong Race Week in January.
"The fleet in Australia is highly competitive and exciting," says Jim.