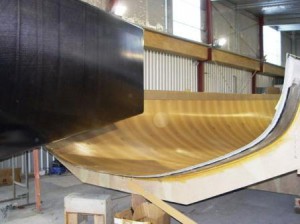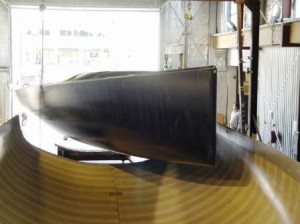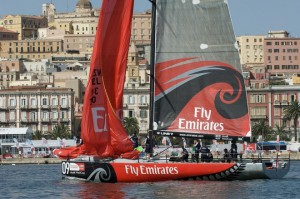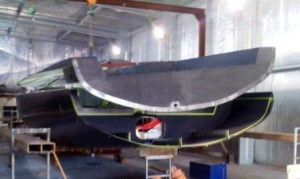 A 52 footer under construction at Cookson Boats in Auckland will make its first major appearance at the 28th HSBC Premier Coastal Classic yacht race.
The boat 52 features a hull identical to that of Emirates Team New Zealand 's new TP52 designed by Spanish designers Botin Carceek, with a bigger rig and other modifications that give it both more power and an optimised IRC rating.
The fact that it's not destined to be a member of the Transpac 52 fleet, allows it more generous headroom, and a slightly higher freeboard than the Team New Zealand boat, which was launched in February this year and has performed notably on the MedCup circuit. As a boat destined to be raced in IRC configuration, the Georgia boat will have a fixed keel.
The IRC modifications and customised interior are the result of collaboration between Jim Farmer (who has sought to follow the precedent he established with the much admired interior of the previous 53) and project manager George Hendy, in consultation with the designers and builder Mick Cookson."
The boat is the fifth in the line of boats built for Auckland Barrister Jim Farmer, all named Georgia, and starting with a Mumm 36 launched in 1995. As well as campaigning locally, it will participate in major Australian regattas, and potentially the Admirals Cup, should the famously prestigious international event be revived for 2011.
In its first season the boat will take part in the HSBC Premier Coastal Classic, Bay of Islands Sailing Week, the IRC National Championships in Wellington and long distance offshore racing.