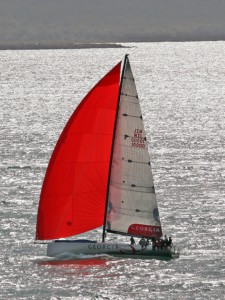 Thanks to a hearty South-Wester and excellent preparation work on behalf of its crew, Georgia Racing enjoyed dream conditions in its maiden race, the 119nm HSBC Premier Coastal Classic between Auckland and Russell, on Friday 23 October 2009.
Just two weeks after its launch, and with sailing systems still being perfected a
nd the crew getting used to the boat, Georgia was the third to finish in a fleet of over 180 keelers and 20 multihulls.
Four of a possible seven records were broken this year; the winner was the 30m supermaxi Alfa Romeo, finishing in 6 hours and 43 minutes, and setting a new record for the race. Ran Tan II was the next keelboat home, finishing at 7.24pm, and Georgia followed just three minutes later, second out of the fleet of fifty foot boats entered.
Racing against Wired, Upshot and Ran Tan - three advanced fifty-footers with swing keels - Georgia's strengths showed themselves to be from Rangitoto Light in running conditions where she could match the others' masthead gear with her own, and upwind on the final leg from Brett to Russell.
In both these circumstances, Georgia – which has a traditional keel in order to optimise her IRC rating - put time on her rivals, only showing a slightly lower relative speed on occasions where the canting keelers were clearly benefited because of their ability to carry bigger gear at reaching angles.
The boat enjoyed a clean and strategic start, executing a very good gybe off North Head and carrying a smaller A3 gennaker until hoisting the A4 post Rangitoto Light, about 5nm up the course. As the breeze tracked West Georgia swapped to a gibtop, two sail reaching up the course, following a rhumb line most of the way, and tracking inside the Hen and Chicken, and Piercy Islands.
The boat averaged 13 knots for the race, including a substantial upwind leg. Off the wind with the A4 kite Georgia averaged approximately 18-20 knots, peaking at 23.5. Reaching under the gibtop she achieved 13, and averaged 9 – 9.2 knots upwind.
And is the owner pleased?
"I think it was always going to be a challenge to beat the canters in those conditions, particularly because so much of the race (from Rodney on really to Cape Brett) was power reaching. The fact that we did beat Wired and Upshot comfortably was very pleasing. The crew work was excellent and we are certainly getting the hang of the boat fairly quickly. It is such a nice boat to sail and it has tremendous acceleration."
Of the very tight schedule to get on the water in time for the race, he comments. "We weren't totally prepared, still working systems through and getting used to sailing the boat - although it's an easy boat to sail, it's so beautifully balanced. We will definitely get more out of the boat as we learn best how to trim and handle her."
Also see:
More photos of Georgia on the Luvmyboat.com website
http://www.luvmyboat.com/gallery/main/tag_georgia/
TVNZ's preview of the HSBC Premier Coastal Classic, and interview with Jim Farmer:
http://tvnz.co.nz/othersports-news/big-names-in-coastal-classic-3089822
Sail-World.com's coverage of the race:
http://www.sail-world.com/indexs.cfm?Nid=62515