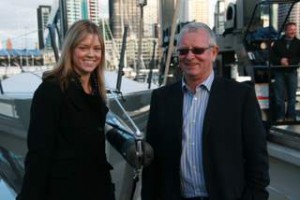 Jim Farmer – owner of the Georgia Racing boats and Director and Trustee of Emirates Team New Zealand - has been named as Director to the Board of the America's Cup Race Management (ACRM), the body charged in the Protocol with providing "neutral, independent, professional, and fair race management" for the next edition of the America's Cup.
Jim, a Barrister and Queen's Counsel, has served Emirates Team New Zealand since 2004, providing legal advice and counsel, and representing it on the Challenge Committee and during protest hearings during the 32nd America's Cup in Valencia.
He is one of two directors, including Mikhail Tuzof of Russia, appointed by the World Sailing Teams Association (WSTA) to sit on the board, which also includes Regatta Director Iain Murray of Australia, one representative from the Defender, and one from the Challenger of Record.
"ACRM welcomes the nominations of James Farmer and Mikhail Tuzov as WSTA's board representatives to ACRM," said Iain Murray ACRM CEO and AC 34 Regatta Director. "This brings us one step closer to formalizing ACRM and moving forward on preparations for running the 34th America's Cup regatta. The Board will play an important part in assuring a fair competition for all."
As per the Protocol, the two members nominated by WSTA will have their positions on the board confirmed by a majority vote of the Competitors Forum following the close of entries for the Cup early next year.
The WSTA was created in the spring of 2009 to promote the interests of the some of the top sailing teams in the world. In partnership with Louis Vuitton, the WSTA has organised three Louis Vuitton Trophy events, with a fourth and final regatta scheduled in Dubai next month.
Jim is well known in New Zealand for helping dozens of young sailors, including several existing members of the Emirates Team New Zealand crew, step up into the world of grand prix racing, aboard his Georgia boats.
Jim is pictured here with his daughter, Georgia.