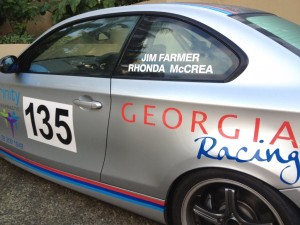 After 20 years of high end yacht racing, Georgia Racing shortly starts its first venture into motor racing on 30 March when the 2013 Targa Rally starts in Auckland. Drivers Jim Farmer and Rhonda McCrea, husband and wife in their normal moments, will be driving a specially prepared 2009 BMW 135i Coupe, purchased by Georgia Racing last year with this event in mind.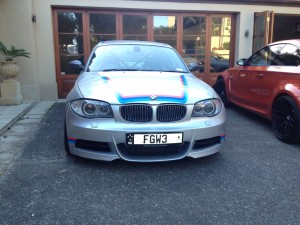 The car was converted from a new 135i road car into a full on rally car by famous former saloon car driver, Robbie Francevic, now retired. The previous owner never got into competition with the car and it turned up one Saturday morning at Continental Cars in Newmarket with instructions from Nissan New Zealand who had somehow ended up owning it to sell. Jim was the first to see it and, having previously owned a 135i as his everyday car (replaced by its successor a 1M) didn't hesitate. He had been thinking seriously of buying a 135i and having it turned into a rally car and here it was!
Contact was made with Robbie, who has since improved the car further and also given expert driving tuition for Jim and Rhonda (and two of Jim's sons, Leo and Hugo, also keen drivers) at the Taupo race track.
Rhonda was riding dirt bikes on the Canadian prairies from the age of 13 and has shone at Porsche track days at Mt Cotton and other venues. Jim is an enthusiastic classic car collector and has wanted to try a Targa for a very long time. They both say that they are not in the Event this year to win but just to take part. Recent weekend practice around the back roads south of Auckland and in the Waikato has given them confidence not just in the performance of the car, which with a 365 BHP twin turbo 3 litre engine and much of the weight stripped out of it is considerable, but also in its safety. The car is very planted on fast bends and corners and up-graded brakes and suspension, along with the usual full roll cage and special rally seats and harnesses, give them both confidence. With racing suits on their way from Italy and helmets with audio communication units, preparation is at an advanced stage.
The Targa course winds its way from Auckland to Taranaki, across to Palmerston North and then to Havelock North before finishing in Taupo. There are 25 special stages over the 4 days with roads closed to normal traffic. Cars are all tracked by GPS units.
The driving and navigation duties will be shared equally by Jim and Rhonda and it is planned to have a daily report on progress both on the Georgia Racing website (www.georgia-racing.co.nz) and on Rhonda's Trinity Chiropractic web site (www.trinitychiro.co.nz).
It will be a busy end of the month. Next Friday is the 2013 Coastal Classic with "Georgia" lining up against some strong competition including Jim Delegat's new acquisition, the winner of the last Volvo round the world race, Groupama. Both "Georgia" and "Georgia One" are planning on taking part in the annual Bay Week regatta in the Bay of Islands in January.