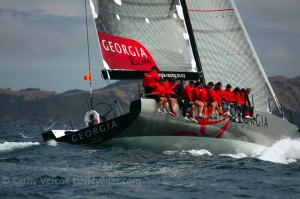 Following the Bay of Islands Regatta in January, a delivery crew headed by George Hendy and with other crew members Sabra and Bryan Davies, Tom Blampied and Chris Funnell sailed the boat from Auckland down the East Coast to Wellington for the New Zealand IRC championships. The delivery was far from straight forward with bad weather forcing the boat to put into Gisborne for a few days.
The regatta, organised by the Port Nicholson Yacht Club and incorporating the New Zealand IRC championships, proved to be a windy affair. Indeed it was too windy at times for the locals and one of the 3 days was canned. This still left 8 races over the other 2 days. Gerogia emeregd victorious. After being 2nd in the first race, she won every race thereafter and was a clear winner with one race still to sail.
Crew work was excellent. Chris Dickson did a splendid job directing the boat and 2 guest sailors on the final day relished the fast sailing. (Chris Hall, corporate counsel for Todd Petroleum, and Terence Arnold, a Court of Appeal Judge).
Since returning to Auckland, Georgia has sailed spasmodically in local events, Wednesday night racing, Winter Saturday racing, and a few Friday rum races. The focus has been on preparation for Hamilton Island in August. Some new sails are being designed and built, modifications are being made to the rudder and to the backstay. The boat leaves Auckland for the trans-Tasman crossing at the begining of August and will go to Airlie Beach before reaching Hamilton Island. One exciting reunion there will be meeting up with Georgia Express, a Mumm 36 and the first boat built by Georgia Racing - a boat with an impressive race record and continuing to perform well under its current Australian owner.
After Hamilton Island, the plan is to sail to Sydney in readiness for the Rolex regatta before Chirstmas. In the meantime Georgia One (the Farr 43 and winner of the New Zealand IRC championship in 2007 and 2nd on a countback in 2009) will be put back into the water for local racing.