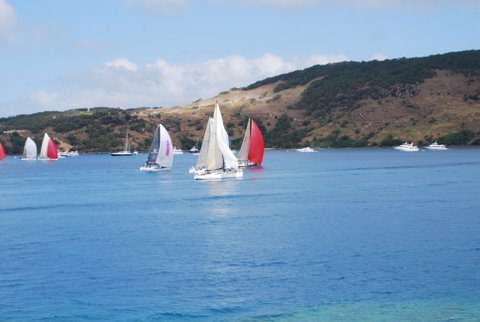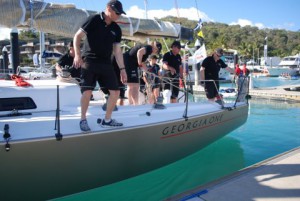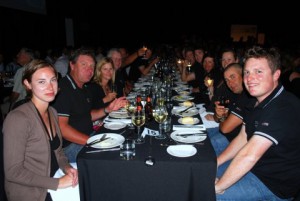 The 2009 Hamilton Island Regatta delivered mixed success only for Georgia One, the Farr 43 first bought as an IMS cruiser-racer in 1995 and converted to IRC with a new rig and keel in 2007. Much had been hoped for the 2007 New Zealand IRC champion and 2009 runner up. However, unprecedented extremely light winds throughout the whole regatta proved not to her liking, and, despite flashes of brilliance (including one win and two thirds) and excellent consistent crew work, the outcome was a mild disappointment.
Nevertheless, as with all Hamilton Island regattas, the competition was intense, the social events outstanding and the week hugely enjoyable. The competition brought the best out in the crew and few errors were made. The gibes were quick and efficient, tactical calls as good as could be in the trying conditions and the trimming exemplary. It would be invidious to single out individual crew members though there was considerable praise (all of it from himself) for the hoists of Tom Blampied ("Orange Thunder" as he was known in reference to his orange gloves).
The sequence for the boat were 5 (island race), 1 (windward-leeward), 8 (windward-leeward), 3, 9 (island races), 5, 3, 4 (windward-leewards) and 6 (island races). The island races were particularly challenging, with the wind behind the islands or in passages at times non-existent or at the 1-2 knot level and sometimes with strong adverse tides running.
The crew for the regatta was George Hendy, Jackie Hendy, Sabra Davies, Bryan Davies, Rhonda McCrea, Sean Mason, Orange Thunder, Leo Farmer, Dave Munders, Chris Funnell, Jun (from the Philipines delivery crew) and Jim Farmer. Katherine Cousins and Georgia Farmer provided enthusiastic off-water support.
Georgia One is now on her way back to New Zealand where she will be decommissioned for a period pending a decision about her future (sale? further racing under the Georgia Racing banner?). The launch of the new Georgia, a customised IRC 52 under construction by Cookson Boats and project managed by George Hendy, is due at the end of the month.