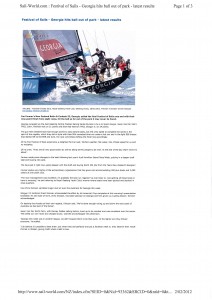 "Festival of Sails - Georgia hits ball out of park" article by Lisa Ratcliff, writing for the Royal Geelong Yacht Club and New Tack. Photo by Teri Dodds
Jim Farmer's New Zealand Botin & Carteek 52, Georgia, sailed the final Festival of Sails race and with their nine point finish from eight races, hit the ball so far out of the park it may never be found.
Georgia wrapped up the Audi Geelong Centre Premier Racing Series Division A by a 12 point margin. Jason Van Der Slot's TP52, Calm, finished next on 21 points and then Rob Hanna's TP52, Shogun V, on 24 points.
The gun New Zealand boat had enough points to stay ashore today, but the crew opted to complete the series in the spirit of the regatta, which they did in style with their fifth corrected time win under a hot sun and in the light ESE breeze that dialed left to the ENE and built, the race committee shifting the finish line accordingly.
Of his first Festival of Sails experience a delighted Farmer said, "Perfect weather, flat water, lots of boat speed for us and no mistakes".
Of his crew, "They are all very good sailors as well as being terrific people to be with. At the end of the day that's what it's about".
Farmer made some changes to the boat following last year's Audi Hamilton Island Race Week, putting in a deeper draft keel and buying new sails.
"We have got it right now, going deeper with the draft and buying North 3DI Jibs from the Team New Zealand's designer".
Farmer spoke very highly of the extraordinary organisation that has gone into accommodating 300 plus boats and 3,000 sailors at one yacht club.
"The race management was excellent; it's probably the best run regatta I've ever been to. Just getting all these boats in here is amazing," he said referring to Royal Geelong Yacht Club's marina where boats have been packed and stacked in close quarters.
Kiwi Chris Dickson sprinkled magic dust all over the racetrack for Georgia this week.
Shogun V's tactician Grant Simmer acknowledged the effort by his America's Cup compadre at this morning's presentation breakfast. "An old mate of mine, Chris Dickson, has been tactician on Georgia and he's given us a sailing lesson," Simmer acknowledged.
On beating the Aussies at their own regatta, Dickson said, "We've done enough racing up and down the east coast of Australia we feel part of the family".
Jason Van Der Slot's Calm, with Barney Walker calling tactics, lived up to its moniker and was consistent over the series. "We sailed our own races and chipped away," said the owner/skipper this afternoon.
"Georgia this week was in another league, we didn't expect them to be that quick. In the lighter airs they blitzed everyone," he added.
"I do believe it's possible to beat them, but when they sail perfectly and put a faultless week in, they deserve their result" chimed in Walker, giving credit where credit is due.