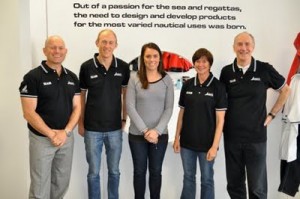 Twenty-two year old Georgia race crew Emma Hendy has grown up afloat, and now, like her father, she makes her living within the yachting industry.
Her father is professional yachtsman George Hendy, who oversaw the build of the Georgia 52 and continues to project manage the boat, and her mother, Jackie, a stalwart member of the Georgia race crew.
The day a decade ago that George lost the tips of two fingers in the Georgia mainsheet system was one of her first times aboard a Georgia boat. She was only twelve and her memories of the day are fuzzy, but the most important thing is that it didn't put her off sailing.
In fact, Emma's love of sailing has been nurtured by some of New Zealand our sport's most esteemed characters, and by some incredible sailing adventures.
From a young age, Don Brown gave Emma the opportunity to learn navigation aboard his veteran race yacht, Anticipation, in races such as the 119nm Coastal Classic from Auckland to Russell.
Then, when she graduated from high school, her father was running the Full Metal Jacket project out of Hong Kong, and she sailed with her parents on deliveries throughout Asia, including Phuket.
Unsure what to do after leaving school – she tried studying law by correspondence while sailing offshore - about two years ago, the Hendys discovered an opportunity to represent the SLAM brand of outdoor clothing in New Zealand, and decided that Emma would be the ideal person to head it up.
Now, Emma is running a successful and growing retail store and wholesale business, supplying sailing gear to some of New Zealand's top sailing teams.
The shop itself, a base for the team uniform business, is located in Beaumont St between Westhaven Marina and the Viaduct Harbour, in modern, bright and airy premises, and with a range of stunning items for sailing – from ocean going protective wet weather clothing, to dinghy sailing wetsuits, and technical clothing, that would make any gear freak drool.
SLAM in New Zealand provides uniforms to the NZL Sailing Team destined for the London Olympics in 2012, to Yachting New Zealand, the Young 88s, Black Sheep Matchracing, and also to superyacht crews who are visiting New Zealand or who are based here and need to stock up.
"Our crew uniforms department is really busy all year," says Emma. "We have our own sailing teams, and boats visiting during the European summer."
She receives a lot of advice and mentoring from George, who was Shore Manager for the GBR Challenge during the 2003 America's Cup in Auckland, to keep her on track. "It's good to have his knowledge, and we can bounce things backwards and forwards."
Emma employs her younger sister Courtney Hendy on a part time basis in the store, and hopes to add another shop by summer, extending the brand's presence in the New Zealand market.
She's also having a great time sailing aboard both Georgia boats. "We are having wicked sailing with Jim," she says.